All About Gridwall
Consider Gridwall for your store fixtures.
Gridwall is very versatile. It can be used on a wall or as free-standing displays. It is so versatile that just about any product can be displayed on it.
Gridwall comes in a variety of standard sizes. Mounting it on the wall, you can display all types of merchandise. It is mostly used to display clothing, shoes, electronic heavier items.
Held to the wall by wall brackets:

Gridwall fits together by using butterfly clips.

You can configure it almost anyway you want.

There are a variety of gridwall accessories:
hooks, shelves,baskets, video displays and faceouts are just a few of the vast selection.
If you choose to make free-standing fixtures a variety of bases can easily take a few pieces of gridwall and a base and make a store fixture suitable to almost any requirements. It is lightweight, portable, easily stored when not needed and not very expensive.
Four popular bases are shown here:
T Base makes a free-standing single panel.
Triangle Base with casters.
4-Way Base.
Gondola Base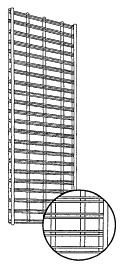 One thing to remember when considering gridwall vs. slatwall is that most slatwall accessories do NOT interchange with gridwall.
If you are using slatgrid you may interchange slatwall and gridwall hardware. Slatgrid looks a little different and costs more than regular gridwall.slatgrid
Some people require a heavier duty gridwall. Gridwall with 1" square tubing around is used for strength in some applications. An example is trade show booths.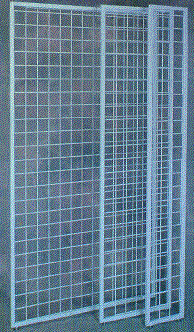 Heavy duty gridwall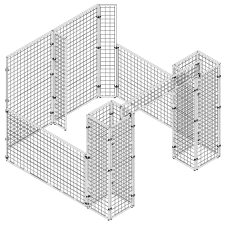 Trade show Booth
Gridwall has been shown to be one of the most versatile display items. It is not expensive, very light and strong and may be used to display almost any product.